SKI RESORTS & DESTINATIONS
Smarter solutions for a digital planet.
We offer intelligent and innovative ticketing and access management solutions for mountain railways and ski resorts. Ticket sales, automated data management, store cash registers and stock management, F&B, online sales, reservations, CRM and admission monitoring can be operated and managed in a single system. Axess is a full-service partner in all these areas.
Our central DATACENTER makes it possible to integrate as many products or features as are needed. No matter whether it's a family sking resort or a large mountain resort. Axess' modular system also makes it possible to add updated features in the future. A wide range of third-party products can also be integrated. At Axess, we make everything ourselves. Our software and hardware is developed at our company headquarters in Anif and produced at our own factory in Innsbruck. Our tickets and access solutions all are "made in Austria".
Axess Smart Solutions
Innovative complete solutions from Axess - one single ticket for access to all features. With the smart and innovative solutions from Axess, operators benefit from smooth operations of their facilities and best service for their guests.
Quality access control systems such as the Smart Gates offer maximum reliability and safety for both operators and skiers. Axess has however much more to offer.
All-in-one-Ticket: a single ticket gives skiers access to all lifts, enables them to hire their skiing equipement, book an instructor and open the ski locker. All Axess RESORT.SOLUTIONS features can be customized to the operator´s needs.
Axess SKIWALLET
Lift Tickets on your Mobile Phone - Axess Systems are already active with this new Technology in European and U.S. Ski Resorts
The digital alternative to the classic lift ticket is in high demand. Having the ticket on your mobile phone is the answer. Europe-based Axess, the international technology trendsetter when it comes to ticketing and guest-management systems, has already equipped two ski resorts in Europe and in the U.S. A third is currently being installed in Spain. This offers new possibilities in ski pass management as well as additional convenience when buying and using a lift ticket.
After extensive test phases in six large ski areas, the time has now come: The lift ticket can be saved on a cell phone and works like any previous RFID ticket. The skiers can go through gates contactlessly with their cell phones in their ski jacket.
First, the lift ticket is conveniently bought in the online ticket shop and saved into the Axess SkiWallet app. The process is similar to buying a plane ticket, concert ticket or any other digital ticket. As soon as the skier steps into the reading area of the gate, the mobile phone connects automatically via Bluetooth and the ticket is checked. After approval, the gate opens automatically and grants access. Meanwhile, the mobile phone stays in the jacket, the gloves stay on. No more queuing, no more need to collect your ticket.
The AX500 Smart Gate NG BLE points the way to an even more convenient and guest-friendly future. A total of three ski areas will be equipped with Axess Bluetooth systems in the ongoing season. "Bluetooth Low Energy (BLE) describes a wireless technology that allows devices to network within a certain radius. It allows the mobile phone to communicate with the gate. The ticket information is stored on the cell phone and can be accessed without contact," says Oliver Suter, CSO and Board Member of Axess.
The first project in Koprivná (Czech Republic) is running to complete satisfaction with the new system. The tech-savvy ski area offers its guests the ticket on their mobile phone and has had absolutely positive guest reactions. Operation runs smoothly and in the same way as with the previously used chip cards or RFID tickets. In a press conference on January 16, co-owner Karel Lezatka and managing director Jan Lezatka emphasized how satisfied they are with the new system and why they want to be at the cutting edge of the latest technology right now.
"The new gates will become the standard," says Josef Fischer, Head of Hardware Development, with certainty. He and his team worked long and hard to ensure that the app uses as little energy as possible so that the cell phone can always remain active despite low temperatures.
Based on the empirical values of these first projects, the new systems will probably soon be in use in many other ski areas around the world soon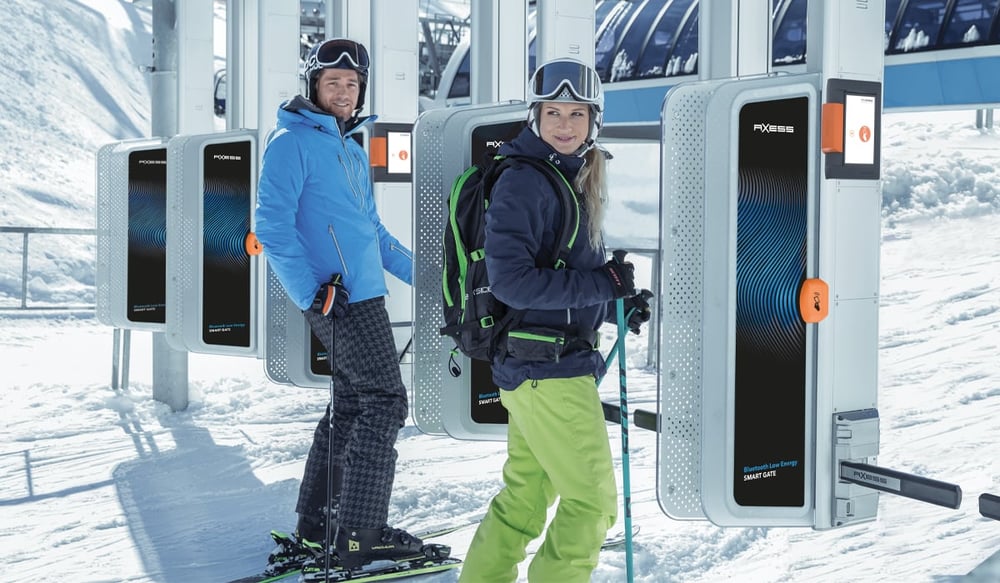 Easy way to fun on the slopes
Axess TICKET LOUNGE - the digital cable car station. Buying lift tickets at the counter is old news. In the future, tickets will be purchased online and with self-service options. Pairing Axess TICKET FRAME 600 with Axess PICK UP BOX 600 transforms any valley station into a ticket lounge for self-service lift ticket purchase and issue. By the way, this is absolutely the fastest way to get a ticket on-site - 24 hours a day.