STADIA & ARENAS
Axess smart solutions for Stadia & Arenas brings more than 81.000 guests into the venue in just 2 hours.
Entry to the stadium needs to be quick: with Axess secure systems, a fan´s entry ticket is checked in 0.1 seconds. In addition to speed, security and flexibility is a significant factor for Axess´smart solutions. With the latest AX500 Smart Gates NG - Mobile Palette and WIFI access and secure lines can be individually positioned by the operators. The only requirement is a WiFi connection. Thanks to the long-life battery pack the gate can be well-positioned wherever it is necessary.
Entrance to parking areas can be integrated into the stadium management system. Smooth ticketing is guaranteed by interfaces to all major ticket-providers.
Axess Redefines Stadium Systems with Cutting-Edge Innovations
Axess AG, a pioneer in access control solutions, is transforming the stadium experience with its latest, technological innovations. In this article, we will explore some of Axess' groundbreaking advancements, focusing on Axess EVENT.ACCREDITATION, the Axess SMART TERMINAL 600, the Axess SMART SCANNER 600 NFC and the flexibility of its access control hardware.
Axess EVENT.ACCREDITATION
Axess EVENT.ACCREDITATION is a cutting-edge solution that revolutionizes the process of managing non-commercial accreditations. By digitizing and streaming all aspects of accreditation, it eliminates the need for manual and cumbersome procedures. This solution not only promotes data quality, compliance with legal requirements and data protection guidelines but also empowers operators and users to effortlessly manage accreditations, evaluate data, and enhance overall efficiency.
Through a user-friendly portal, operators and companies experience a transparent and efficient workflow, leveraging advanced technologies, such as Oracle Database, Microsoft Internet Information Server and REST interfaces, to ensure secure and seamless communication. It also offers features like document management, reporting, and onsite processes for hassle-free accreditation management. EVENT.ACCREDITATION sets a new standard for digital accreditation processes while seamlessly integrating with the Axess access control system.
Axess SMART TERMINAL 600
The Axess SMART TERMINAL 600 is the advanced access solution designed for stadiums and large-scale events. This versatile gate can be equipped with either a turnstile or flap module, on one or both sides, offering two-way passage in a single gate. Its newly developed sensor detects the direction from which a person approaches and grants access accordingly, whether it's for entry or exit. The SMART TERMINAL can operate both online and offline, providing flexibility in various settings and when using the ADA version, barrier-free access is ensured for all guests.
Axess SMART SCANNER 600 NFC
At the forefront of Axess' latest offerings is the Axess SMART SCANNER 600 NFC, a remarkable device that has received full certification from Apple and Google. This cutting-edge hardware seamlessly integrates with popular mobile platforms, providing fans with a swift and contactless entry experience. Using NFC (Near Field Communication) technology, the SMART SCANNER enables spectators to effortlessly access stadiums using their smartphones, eliminating the need for traditional, physical tickets.
NFC tickets offer a range of benefits that enhance the fan experience and streamline entry processes such as provide a secure and convenient means of accessing stadiums - fans can simply tab their NFC-enabled smartphones on the SMART SCANNER, which quickly verifies the ticket's authenticity and grants entry.
Moreover, NFC tickets offer a personalized and interactive experience. Beyond serving as an entry pass, these tickets can be customized to provide additional information or services to fans. This can range from exclusive content, seat upgrade options or even special offers for merchandise and concessions. This personalization enhances fan engagement and creates memorable experiences, fostering loyalty and satisfaction.
Flexibility through Mobile Gates
Axess' access control hardware is designed to deliver remarkable performance and reliability. The company's mobile gates, equipped with lithium batteries and Wi-Fi connectivity, revolutionize access point management within stadiums. These portable gates can be easily deployed at various locations, providing flexibility and efficiency for stadium operators.
The integration of lithium batteries ensures extended operational uptime, reducing the dependence on external power sources and enabling seamless gate operations throughout the event. Additionally, the Wi-Fi connectivity enables real-time data transmission, allowing for instant updates and synchronization with the central access control system. This synchronization ensures accurate and up-to-date information, enhancing security and streamlining access procedures.
With its unwavering commitment to innovation, Axess continues to redefine the stadium experience, setting new standards for ticketing and access control solutions.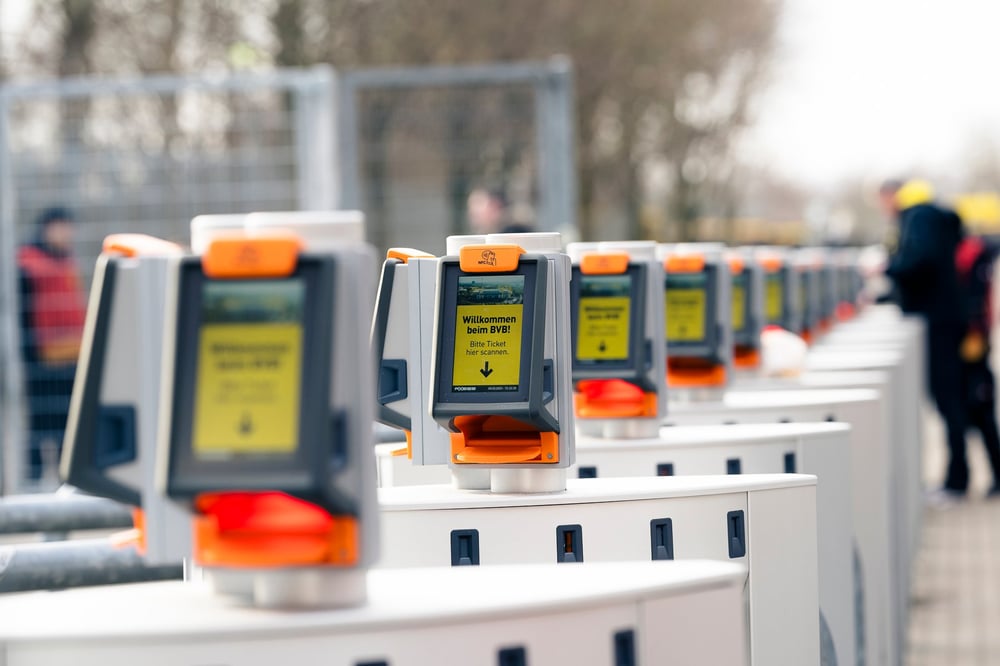 For a matchless stadium experience
Axess technologies ensure for all soccer fans a matchless stadium experience. Speed and security in the context of access control are essential for guests and operators. Therefore, we only need 0.1 sec to check the ticket and the opening speed of the gate can be adjusted.
The features of all Axess products for access control are based on the latest technology and customer demands, e.g. the AX500 Smart Gate NG Flap ADA allows a comfortable and barrier-free access for all visitors with special needs.
Upon request, entrance to the parking areas can be integrated into the tariff for the stadium ticket. Axess PARKING guarantees a quick handling and satisfies with robust hardware for indoor and outdoor use. Be ready for a digital future!